Small World Core Game with Leaders of Small World Expansion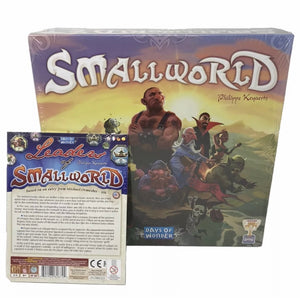 SALE
Small World and Leaders of Small World Expansion!
Small World, the fun, zany, light-hearted civilization board game!Designed by Philippe Keyaerts as a fantasy follow-up to his award-winning Vinci, Small World is inhabited by a zany cast of characters such as dwarves, wizards, amazons, giants, orcs and even humans; who use their troops to occupy territory and conquer adjacent lands in order to push the other races off the face of the earth.
Leaders of Small World: 
The expansion consists of 24 leader tokens that are neither a race nor a power. When you pick a new race, you can opt to take its leader. The leader acts as an additional race token. The leader, however, disappears as soon as the race goes into decline. Also, the leader is brave, which means that he can only be staying at regions that are not immune.
Leaders can be held hostage for ransom. If the ransom is not paid, the leader counts as two victory points at the end of the game for the player that captured the leader.