Fireball Island: The Curse of Vul Kar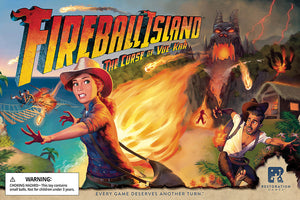 Welcome to Fireball Island! You may have heard stories. You may have visited when you were younger. Perhaps you even saw a fireball engulf a fellow traveler in a hellscape of horror that makes you afraid to close your eyes at night. Whatever the case, welcome back! Turns out that Vul-Kar didn`t like having his gem stolen way back when, so there has been some volcanic upheaval, an explosion in our snake population, feral tigers, new types of trees bent on ending human life, and swarms of bees everywhere. But don`t worry we have top people working on it.
WARNING:
CHOKING HAZARD -- Small parts. Not for children under 3 yrs.